Besides hosting various events, we also offer catering service. From set up to delivery, table set with elegant porcelain china and well-trained and properly attired service staff, we'll take care of it all for you. Our experience and expertise will make your event a success.
Our excellent facility allows us to cater to any size of an event, whether it's a corporate meeting, conference service or a social gathering.
We cater to the nearby locations: Bolszewo, Wejherowo, Reda, Rumia as well as Gdynia, Gdańsk, Lębork.
We offer highest quality of ingredients, many years of experience in servicing various events and professional assistance in custom menu planning.
Please contact us at:
tel: 609 545 658
e-mail: gastronomia@hotelvictoria.pl
READY TO TAKE SNACK KITS
It is a perfect solution for the New Year's Eve, intimate meetings with your beloved ones, romantic dinners, meetings with friends, as well as for business meetings.
We offer three delicious and nutritious snacks sets made with from best and freshest ingredients to choose from:
Download Menu "Catering Services Offer"
We offer the highest quality, many years of experience in servicing events and professional help in arranging the menu.
We attach great importance to the taste and appearance of dishes.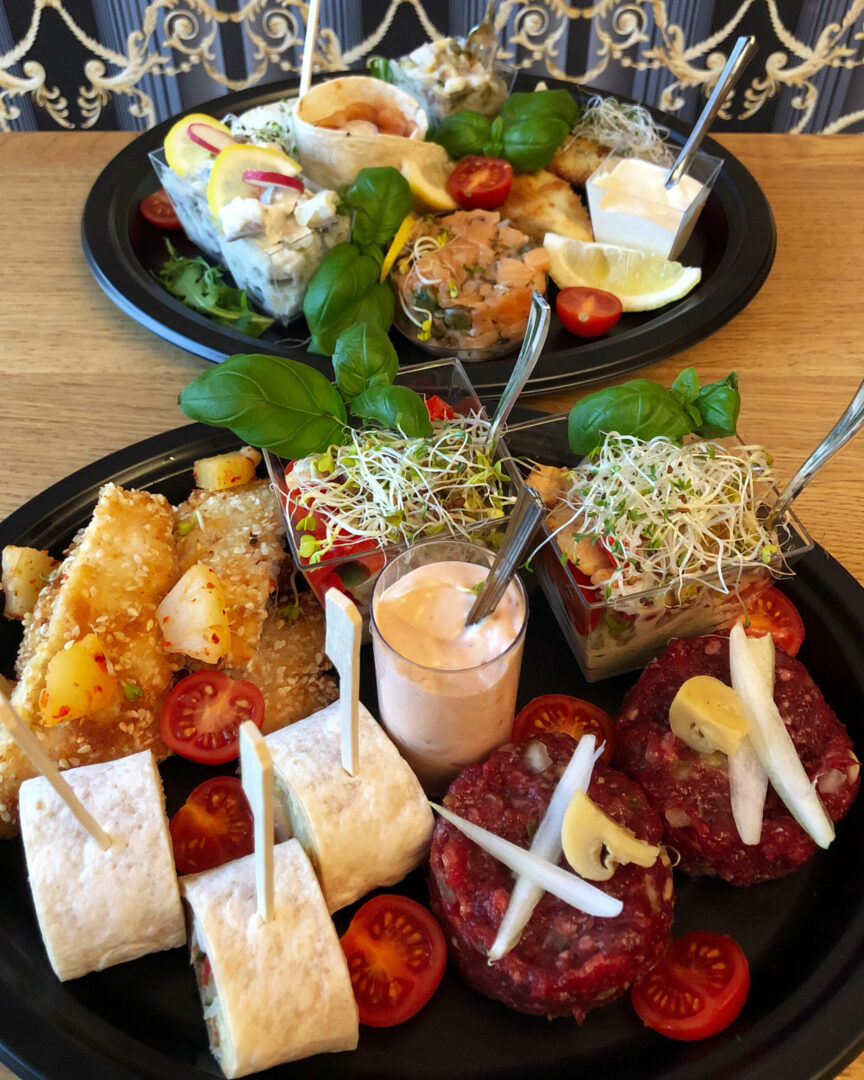 Set for 2 / 4-6 / 8-10 people
17 / 34 / 50 pieces
169 / 299 / 399 PLN
Beef tartare 2 / 2 / 4
Salmon tartare 1 / 2 / 4
Herring tartare 1 / 2 / 4
Herring in cream 2 / 4 / 6
Mini tortillas with chicken 3 / 5 / 5
Mini tortillas with salmon 2 / 5 / 5
Cod fillets in bread crumbs 2 / 4 / 6
Chicken strips with pineapple 2 / 4 / 8
Mini Cezar salads 2 / 4 / 6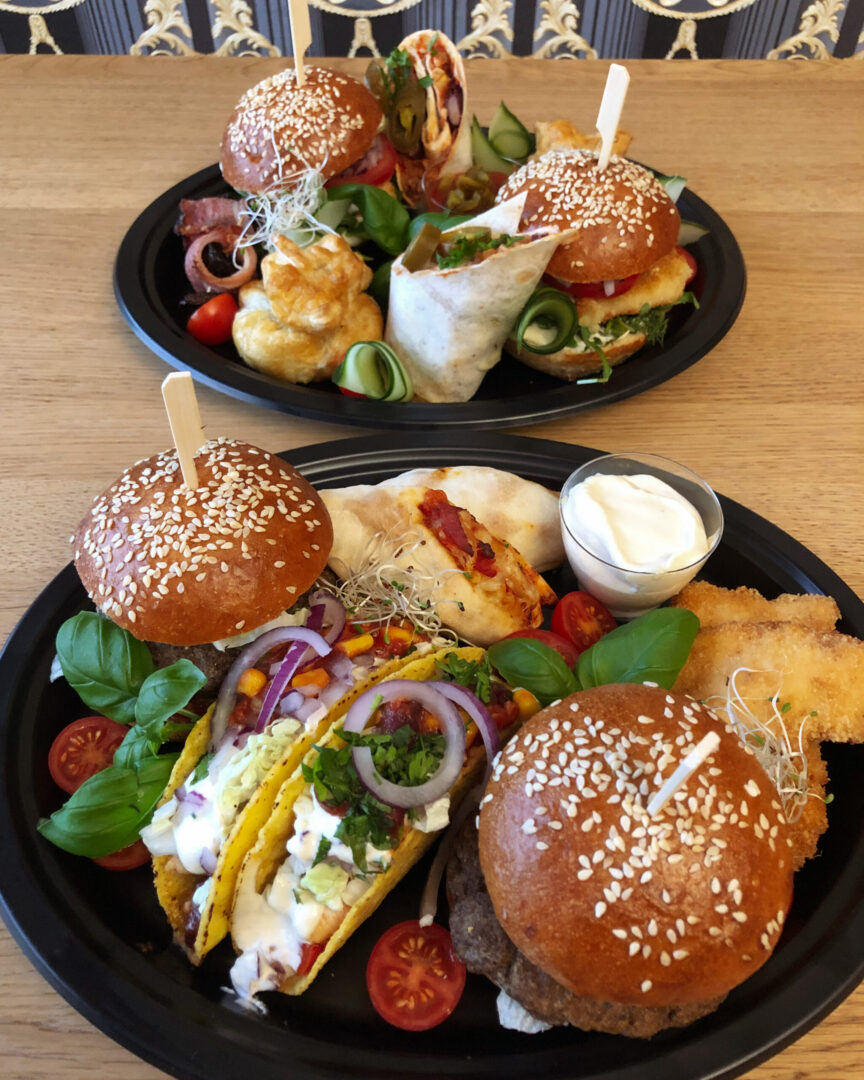 Set for 2 / 4-6 / 8-10 people
16 / 34 / 50 pieces
169 / 299 / 399 PLN
Beef burgers 2 / 4 / 6
Fish burgers 2 / 4 / 6
Pepperoni pizza rolls 2 / 4 / 6
Spicy chicken pieces 2 / 6 / 8
Burrito with minced meat 2 / 4 / 6
Grilled chicen taco 2 / 4 / 6
Dried plums baked in bacon 2 / 4 / 6
Pouches of puff pastry with mushrooms 2 / 4 / 6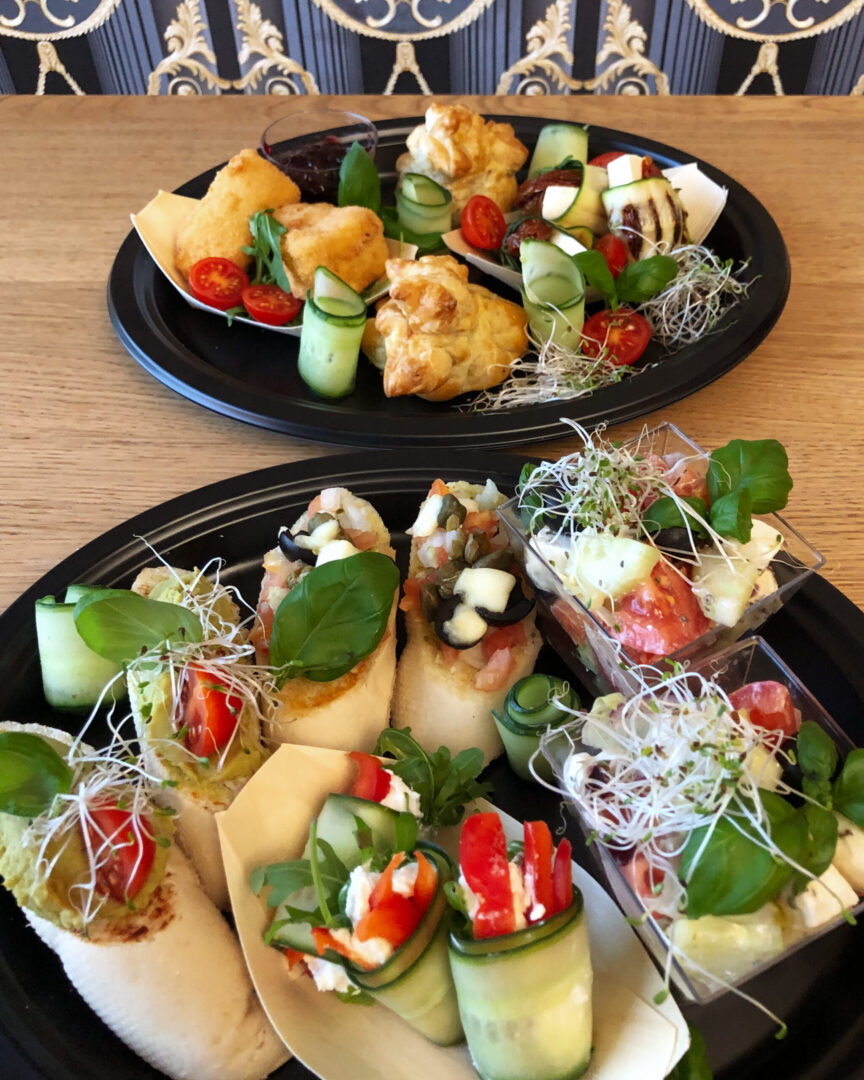 Set for 2 / 4-6 / 8-10 people
16 / 34 / 50 pieces
139 / 249 / 359 PLN
Puff pastry pouch with spinach and feta cheese 2 / 4 / 8
Grilled zucchini rolls with dried tomato and mozzarella 2 / 6 / 8
Fresh cucumber with cream cheese and vegetables rolls 2 / 6 / 8
Pieces of camembert cheese with cranberry jam in bread crumbs 2 / 6 / 8
Tartines on wholemeal bread with hummus and vegetables 2 / 4 / 6
Bruschetta with tomatoes, olives, capers, mozzarella and basil 2 / 4 / 6
Mini greek salads 2 / 4 / 6